The New Covey Awards is an award program for books. There are two awards, one for Book Covers and one for Book Trailers.
Please click on the banners below to visit the sites and learn more about the awards.
Covey Associates are the people directly involved in running the site or publishers, artists, book sellers, reviewers, and forums that have a permanent link to The New Covey Awards on their blog or website.

If you want to become a Covey Associate email us at TheNewCoveyAwards@gmail.com

What if Women lived four times as long as Men?


Ryan Peters is an anomaly. In a world where women live four times as long as men do, Ryan is one of a few men with a similar lifespan. This difference in lifespan has had profound consequences on the world balance of political, economic, and military power and has created a social Gender Divide that threatens to tear the world apart.

Determined to close this Gender Divide, Ryan will sacrifice anything to succeed. The Gender Divide has already cost him the one true love of his life and even though he has a second chance, he won't let that stand in his way. He is even willing to give up his own life … and in a sense he already has.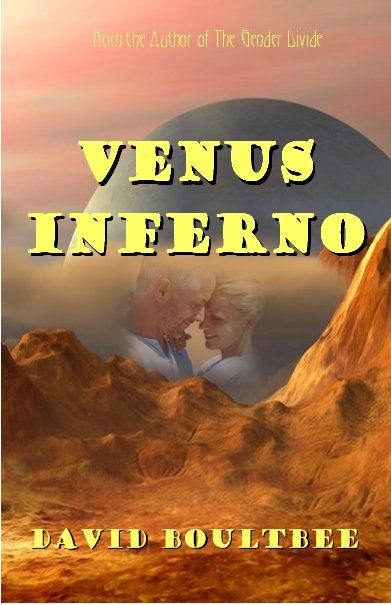 Conspiracies and Love combine in the seething atmosphere of Venus!


John Marks relationship with Naziah Rogers is a bit unconventional. Their relationship started with a slap across the face and it only gets hotter from there!

This not-so-chance meeting leads to conspiracies, sabotage, and a search for a rare mineral in the seething atmosphere of Venus, culminating in a desperate battle in space.






Covey Judges are an elite group of people who have been invited to Judge for The New Covey Awards.

The Covey Judges review the Cover and Trailer entries each month and select the Cover and Trailer they feel best combines art and design to create the Most Artistic Cover or Trailer.

Below is a list of the current Covey Judges in alphabetical order:
Roles: Author, book designer

Website: http://www.bruceboston.com/

Bio:
Bruce is the author of more than forty books and chapbooks, most recently, the novel, The Guardener's Tale. His writing has received a Pushcart Prize, the Bram Stoker Award, the Asimov's Readers' Award, the Rhysling Award, and the Grand Master Award of the Science Fiction Poetry Association.


Roles: Reader, Poet, Reviewer, Interviewer, Moderator, Editor, Proofer, and Critique Partner

Website: http://www.myspace.com/wolfhealers

Bio:
Elaine is a reader, who then started reviewing at Coffee Time Romance in September 2001 and her life will never be the same, thanks 2K crew and everyone she has met since then. She now is doing things she never thought possible, especially in the literary or book world. She is out on medical and not working, so she believes in "PAY IT FORWARD" to help others. She is so proud to be chosen to help out here.


Roles: Author, Covey Associate

Website: http://davidboultbee.com/blog

Bio:
David is the author of The Gender Divide, a Science Fiction novel. He is also a Covey Associate, responsible for a lot of the effort that goes into running The New Covey Awards.


Roles: Poet, painter, photographer, book designer, small press publisher, editor

Website: http://www.gromagonpress.com/

Bio:
Malcolm is the author of eight books of poetry, illustrated by his own oil
paintings and photography. He is the founder of Gromagon Press, an independent
small book publishing firm, and is the editor of the benefit anthology Nox: Dark Poets Against Abuse. He is the current Secretary of the Science Fiction Poetry Association.


Roles: Avid reader

Bio:
Dani is a mom that loves to read and do crafts. She comes to us highly recommended by a Covey Associate.


Roles: Artist, Graphic Designer

Bio:
Alex has created several book covers, the most recent of which is Sunninghill Snow by Christine London. Though she was born in the States, she grew up in Europe, lived in Toronto, Canada for 11 years and has now returned to LA, where she attended California Institute of the Arts, better known as Cal Arts. As a graphic artist, she has been involved in fashion, jewellery, internet advertising, and teaching. Over the past few years friends have requested book covers and this is how she came to know The New Covey Awards.


Roles: Reader, Reviewer and Contest Coordinator

Bio:
Kimberly joined Coffee Time Romance & More as a reviewer in July 2008. While she is still an avid reader, she also enjoys taking a break to play with her dogs.


Roles: Author, Freelance Cover Artist, Graphic Artist

Website: http://www.joleenenaylor.com/

Bio:
Joleene Naylor grew up in southwest Iowa surrounded by corn and very little entertainment – so she made her own. She's been writing and drawing since she was a child, with a leaning towards fantasy, horror and paranormal. It's this love of all that goes bump in the night that lead her to write the Amaranthine vampire series. In her spare time she's a freelance artist and photographer. Joleene does freelance book cover art, maintains a blog full of odd ramblings, illustrates a webcomic and hopes to win the lottery. However, unless she starts buying tickets she may never actually win anything.


Roles: Author, Cover Artist, graphic artist, promotions designer, marketing director for Tease Publishing.

Website: http://stellaprice.deviantart.com/gallery/

Bio:
A lifelong artist, Stella has a BA in industrial design and owns a small promotional group, Twilight Industries. She works for several publishers including WCP, Tease Publishing, BluePh'ier Publishing, Mystic Moon Press, Eternal Press, and Phaze Books and has worked in the past with Red Rose Press, Chippewa/Lady Aibell, and several other small press companies. She also does promotional items for several authors, including Jacquelyn Frank. She has won several awards for cover art, including an REC award, Rites award, and LRC award.


Roles: Artist, writer, poet, editor

Website: http://www.margesimon.com/

Bio:
Marge free lances as a writer-poet-illustrator for genre and mainstream publications such as The Pedestal Magazine, Strange Horizons, Flashquake, Aeon, Flash Me Magazine, Dreams & Nightmares, From the Asylum and Vestal Review. She has illustrated four Bram Stoker Award winning publications. Her self illustrated poetry collection, Artist of Antithesis, was nominated for a Bram Stoker award in 2004 and her Poetry Collection VECTORS: A Week in the Death of a Planet won the 2008 Stoker award for Best Poetry Collection. Marge is former president of the Science Fiction Poetry Association and now serves as editor of Star*Line.


Roles: Co-Owner of Coffee Time Romance & More

Website: http://www.coffeetimeromance.com/

Bio:
Karenne is the Co-Owner and Webmistress at Coffee Time Romance & More. She has a passion for books and people who write and enjoy reading as much as she does! She was so excited when she was asked to help out with this venture because she is glad to see people get credit where credit is due for all of their hard work and talent...plus it is just plain fun (wink)


Roles: Reader, Book Reviewer

Bio:
LeeAnn loves reading books, and loves sharing her joy of reading with others. Since joining Coffee Time Romance LeeAnn gets to also share her opinions of the books she reads with other people.


These are Covey Judges who are no longer able to participate in the judging. We thank them for their time and efforts in supporting the awards.
Roles: Author

Website: http://www.maryturzillo.com/

Bio:
An Emeritus Professor at Kent State University, Mary founded Cajun Sushi Hamsters and has taught in NASA's Science through Arts. Mary's "Mars Is no Place for Children" won the 1999 Nebula, and An Old-Fashioned Martian Girl, her first novel, appeared in Analog. Among other magazines, Asimov's, F& SF, Interzone, SF Age, Weird Tales, Oceans of the Mind, Electric Velocipede, Lady Churchill's Rosebud Wristlet, Goblin Fruit, and Strange Horizons have published/will soon publish her fiction and poetry. Her story "Scout" is slated for publication in George Scithers' new magazine Cat Tales. Your Cat & Other Space Aliens appeared from vanZeno press in 2007. Her longer stories Ewaipanoma (Sam's Dot, ed.Tyree Campbell) and American Portmanteau Theater (Scrybe Press, ed. Nathaniel Barker) will appear as chapbooks in 2008. Dragon Soup, her collaboration of poetry, art, and fiction with award-winning artist/writer Marge Simon will appear in 2008. Heart's Journey, Mars Quest, a novel about the adventures of Marcus and Zora Smithe (parents of her plucky Martian girl hero Kapera) is in the works.